After almost a year of restricted travel, most parts of Australia are starting to open up just in time for the summer holidays. Chances are, you and your pet are itching to get out of town. But the thought of embarking on a dog road trip can be overwhelming. It doesn't have to be though–many animals love jumping in the car and exploring. So if you're considering setting off together, we have some suggestions for making your favourite holiday activities dog-friendly.
Not sure where to start? Let us suggest a mosey up Australia's east coast, taking in Melbourne, Sydney, and Brisbane as you go. There's plenty of swimming, adventuring, eating, and drinking to keep you both busy.
Melbourne
This is our home town, and we think it's a pretty great city to be a dog (or a dog owner). Famous for its food and dog-friendly café culture, the highlight of a Melbourne trip is often eating. Luckily, with so many venues that welcome your pooch, like the dog-friendly beaches, you won't have to leave your dog on the curb.
With a walled front courtyard, beautiful interior, and great coffee, Patch has something for everyone. Plus, its proximity to the Yarra River and Burnley Park's off-leash area makes it a perfect stop on a dog day out.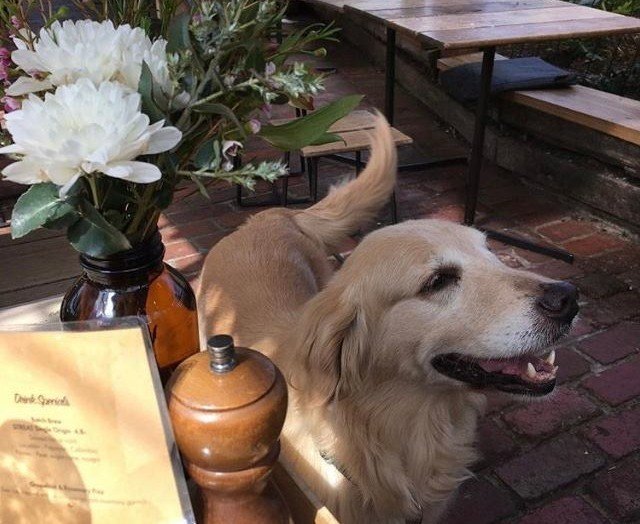 As the name suggests, this cafe is part of the Collingwood Children's Farm so it's great for pets and people who love all sorts of animals. After you've had a bite you can both stretch your legs at the beautiful Merri Creek trail or walk up to the off-leash area in nearby Yarra Bend Park.
18 St Heliers St, Abbotsford
If you're feeling a little fancy, treat yourself at this century-old local institution. There's plenty of ocean-side outdoor seating, but the best part is that the beach right in front has an off-leash play spot.
If you have a whole day to spare, you and your dog can book in for a doggy wine tour with Gourmet Pawprints. This Melbourne based company offers curated hikes, walks, picnics, high teas, wine tours, and even truffle hunts designed to be enjoyed with your pets.
Sydney
Any time spent in Sydney with a dog really has to be focused on the great outdoors. It would be cruel to bring them to this beautiful city and not have as many swims as possible. Luckily, Sydney has more than its fair share of spots to take a dip. Once you're done visiting these dog-loving beaches, and probably starving, you won't have to look far for somewhere great to eat.
One of the nicest things about this beautiful and protected cove is the grassy reserve that borders it. Meaning you can turn your beach day into a park day without having to get back in the car. Dogs are allowed off-leash on the beach for the whole weekend. But heads up, during the week it's only off-leash before 9AM and after 4PM.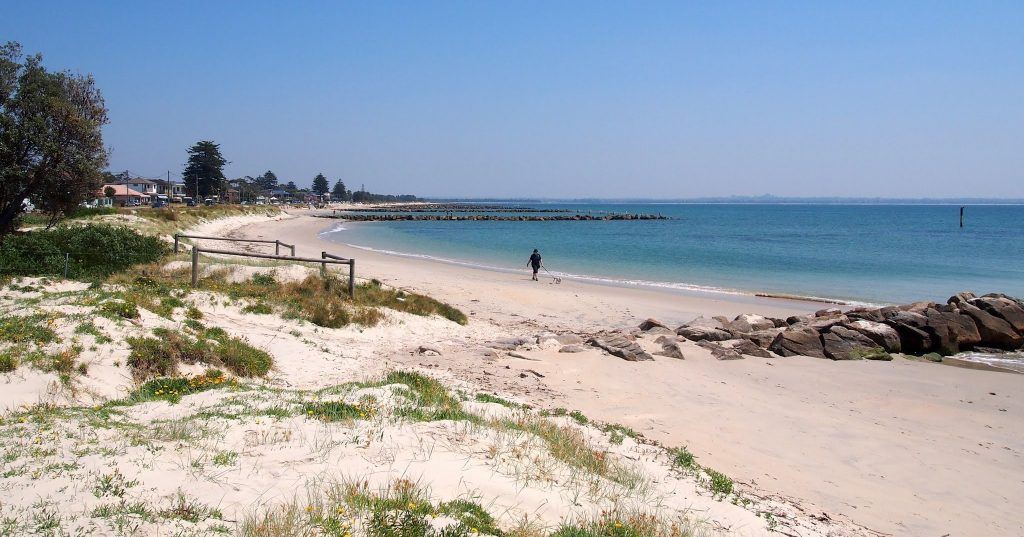 Just down from Greenhills Beach, this quiet spot is beloved for its open space, nearby cafes, playground, BBQ facilities, and great views of Botany Bay. Oh, dogs like it too! With hardly any waves and shallow water it's suitable for any level of swimmer. Between the third and fourth jetties at Bonna Point reserve it's off-leash all day. But make sure you don't wander off course, as dogs are prohibited on other parts of the beach.
Now, this is more of a lagoon than a beach, but we doubt you'll get any complaints from your dog. Especially considering it's a full-time off-leash spot. They can get in a good run too, thanks to the grassy dunes in the park area. Word of advice though: it's not great for non-dog swimming.
Open since 2000, Cafe Bones has the honour of being Sydney's first expressly dog friendly cafe. Even more incredibly, they lay claim to being home to the world's first café-style dog beverage–the famous Pupaccino™. In the decades since, they're worked hard at perfecting a pet paradise, and now offer gourmet dog biscuits too.
Brisbane
After all that action, make sure you save some energy and appetite for Brisbane. The city has a lot to offer anyone looking for a relaxed or exciting break. While Melbourne and Sydney pride themselves on food and leisure, Brisbane manages to combine the best of both cities.
Ok, let's pause for a real standout among Brisbane's many dog-friendly cafes. Not only do these guys have great food, coffee, plenty of space, and pats for your dog–they go beyond with a dedicated dog menu. If you had any lingering doubts over their love, this cute tucked-away spot's Lady and the Tramp inspired mural and dedicated hashtag #dogsoftoddandpup will cement things.
These local roasters take their coffee seriously–not only making sure it's delicious, but also sustainably produced. Second to coffee, their speciality is dogs. They have a special hang out spot with water, lead hooks, and lots of pals for them to socialise with. They might even be lucky enough to nab a taste of doggy ice-cream.
Less than 30 minutes from the Brisbane CBD, Mount Coot-tha is a convenient nature break for you and your dog. The five kilometre track from JC Slaughter Falls to the summit winds through beautiful native bushland, and offers a great chance to stretch your legs after all that driving. But if you're after something a little cruisier, there are also shorter walks that will allow you to check out the falls and creeks. Although, if you do make it to the top, you'll be rewarded with a stunning panoramic view of the city. Just make sure your dog stays on-leash.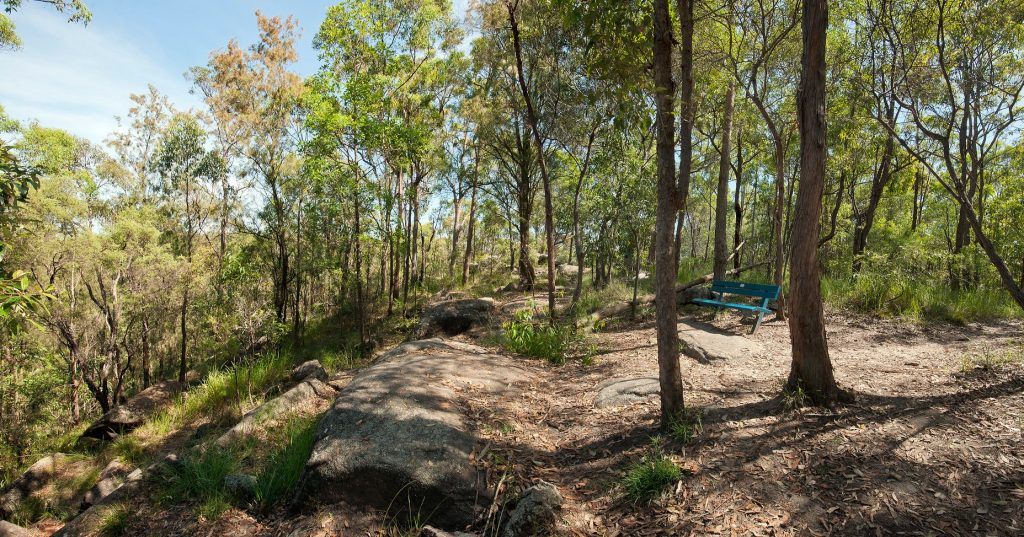 This bushland reserve might only be 15 minutes out of Brisbane, but it can feel like you're miles away from the hustle and bustle. A popular dog walk among locals, due to all the native wildlife, you'll need to take care to keep your dog on-leash at all times. The park has several trail options to explore, so you can easily spend as long as you like enjoying nature–and maybe even spot a wallaby or koala.
Dog Road Trip Tips
Before you set out, make sure your dog is microchipped and your contact details are up to date.
If you're travelling interstate, check that the laws around driving with dogs don't vary.
Organise a restraint your dog is comfortable with (pet shops offer a wide range). Don't let your dog wander around the car.
If this is your first long trip, get them used to things by taking a few shorter rides to places they enjoy. It'll help them get comfortable and associate the car with good things.
Pay attention to how often your dog usually needs to go to the toilet and plan plenty of stops along the way. In general, stopping every couple of hours to let them stretch their legs is a good plan.
No matter how many breaks you take, most dogs will struggle with a whole day of driving. Try break up the trip with overnights in pet-friendly hotels or campsites.
Before you start each day, make sure they've had a decent amount of exercise. A tired dog will be more relaxed in the car.
Purchase a bone or occupier treat for them to chew on across the trip. It will help keep them busy.
Don't forget to pack their bag too. You'll need to bring: lead, collar, water bowl, food bowl, treats, favourite toys, poo bags, blanket, bed, and any medication they may need. Familiar items like toys and blankets will help them relax.
Finally, it goes without saying, but NEVER leave a dog in a car by themselves. Even on cold days they can be impacted and even die from heat stress.
Plan Your Dog Road Trip Carefully
Road trips are a great activity for the warmer months, but in Australia that means you could also be travelling during bushfire season. Research the areas you're travelling through and to and make sure that roads are open and towns are welcoming visitors.
Planning a trip? Check out the rest of our great travel content!
While you're here, subscribe to our newsletter, check out our magazine, and follow us on Instagram, Facebook, and Twitter.