Summer is the perfect time to think about taking a holiday in NSW, but what if you have a new four-legged addition to your family? Bringing home a dog means plenty of changes, from puppy-proofing the house to daily visits to the dog park, but it's also a chance to rethink how you get away and relax.
In the past, many dog owners left their dogs behind at kennels or skipped taking holidays all together. But with an increasing variety of pet-friendly accommodation, including many pet-friendly Airbnbs in NSW, there's no reason why you can't bring your dog along with you.
Now, a dog-friendly NSW holiday shouldn't restrict you to only visiting the local dog park or dog beach. I've travelled right around NSW with my dog, uncovering fun dog-friendly options along the way, and sharing them on my blog, Travelnuity, which is full of dog-friendly travel ideas and tips. Here are my top picks for a dog-friendly NSW holiday: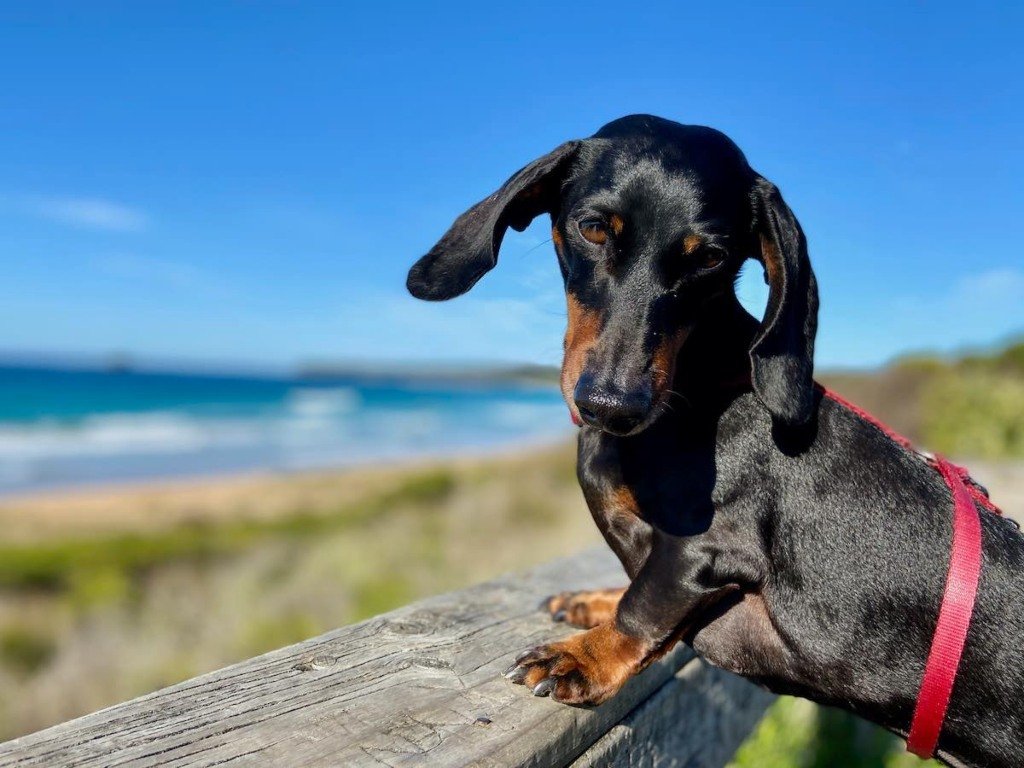 Hit the Dog-Friendly Beaches of Batemans Bay
If the top priority of your holiday is hitting the beach with your pup, you'll be relieved to know that there are plenty of amazing dog-friendly beaches along the NSW coastline — especially when you head outside of Sydney.
One of my favourite areas of NSW is Batemans Bay. The 40km stretch of coastline is home to no less than twelve all day off-leash dog beaches. There are even more timeshare beaches: where dogs are allowed on the beach before 9am and after 5pm during summer, plus all day long from May to October.
Some of the beaches are small and sheltered, such as Sunshine Bay Beach and Wimbie Beach, both just south of the town centre. Alternatively, head north to Durras Main Beach or south to Bengello Beach for wide expanses of sand to run on.
Visit a Dog-Friendly Japanese Garden
If you're considering heading inland, make sure to stop over in the Central West town of Cowra. This charming country hub is home to the Cowra Japanese Garden, the largest of its kind in the Southern Hemisphere.
Surprisingly for such a stunning garden, well-behaved dogs on a leash are welcome to join you around the grounds, which feature a pretty cascade, lake and tea house pavilion. While the gardens are at their most magnificent during the cherry blossom season and when the leaves change colour in autumn, they're still terrific to visit year round. Dogs are also welcome in the adjacent cafe.
Enjoy Wine Tasting With Your Pup
NSW is home to multiple wine growing regions. Close to Sydney is the Hunter Valley, Southern Highlands and the small South Coast wine region. Or else head inland to visit Mudgee, Orange, Canberra or the Riverina regions. In each region, there's a wide variety of cellar doors open to the public daily and on weekends.
While of course your pup will have to miss out on tasting the actual wine, there's no reason why they can't enjoy other attractions. Many cellar doors welcome well-behaved on-leash dogs, usually outside or sometimes even inside. If you'd prefer to skip driving for the day, some winery tours in both the Hunter Valley and Mudgee will allow dogs to tag along. Pop by the local tourist information centres for a list of dog-friendly wineries.
Walk Aalong the Kiama Coast
Many of the most popular walking tracks in NSW are located inside of our national parks, where dogs are unfortunately not welcome. However, there are still some excellent dog-friendly walking trails in the state. One of the best options is the Kiama Coast Walk.
This magnificent walking path stretches for nearly 20km along the beautiful coastline near Kiama, about two hours south of Sydney, from Minnamurra in the north to Gerringong in the south. Dogs on a leash are welcome on the walk, although you will need to bypass some of the beaches where they're not permitted.
Perhaps start at the southern end, at Werri Beach at Gerringong, and hike along the cliffs south of Kiama before retracing your footsteps. Or head to the Kiama Blowhole near the centre of town, then choose to walk north or south, along the easy paved footpaths.
See the Sights of Coffs Harbour
Coffs Harbour has long been a popular tourist destination along the NSW coast, and luckily many of it's most popular sights are also dog-friendly, making it a great destination to visit with your pup.
For instance, did you know that dogs are allowed at many areas of the Big Banana theme park, including taking that essential selfie with the Big Banana? Dogs are also welcome to join you on the Forest Sky Pier at Sealy Lookout, with its superb views along the coast, or walking along the Urunga Boardwalk, just south of Coffs.
Don't miss stopping off at Maggie's Dog Cafe in Moonee Beach. Voted as the most pet-friendly cafe in Australia, it has great meals for humans as well as a dedicated dog menu, dog salon, indoor off-leash area and shop.
Visit the Nation's Capital, Canberra
While technically not part of NSW, Canberra is a surprisingly dog-friendly destination and an easy drive from Sydney. But instead of spending a weekend hitting up the museums, instead consider the many dog-friendly sightseeing options.
For starters, there's nothing stopping you from walking with your dog on the front lawn of Parliament House, the ultimate spot for a Canberra selfie. Also check out the other important buildings located in the Parliamentary Zone extending down to Lake Burley Griffin, or head across it to Anzac Parade to view its many memorials and the exterior of the Australian War Memorial.
A popular stroll with both locals and visitors is the Bridge to Bridge Walk along the shores of Lake Burley Griffin. Don't miss detouring via the Sculpture Garden at the National Gallery of Australia for a dose of art. Alternatively, head to the National Arboretum on the western edge of Canberra for more great on-leash walks. If visiting during summer, look up the dog-friendly swimming spots on Canberra's lakes.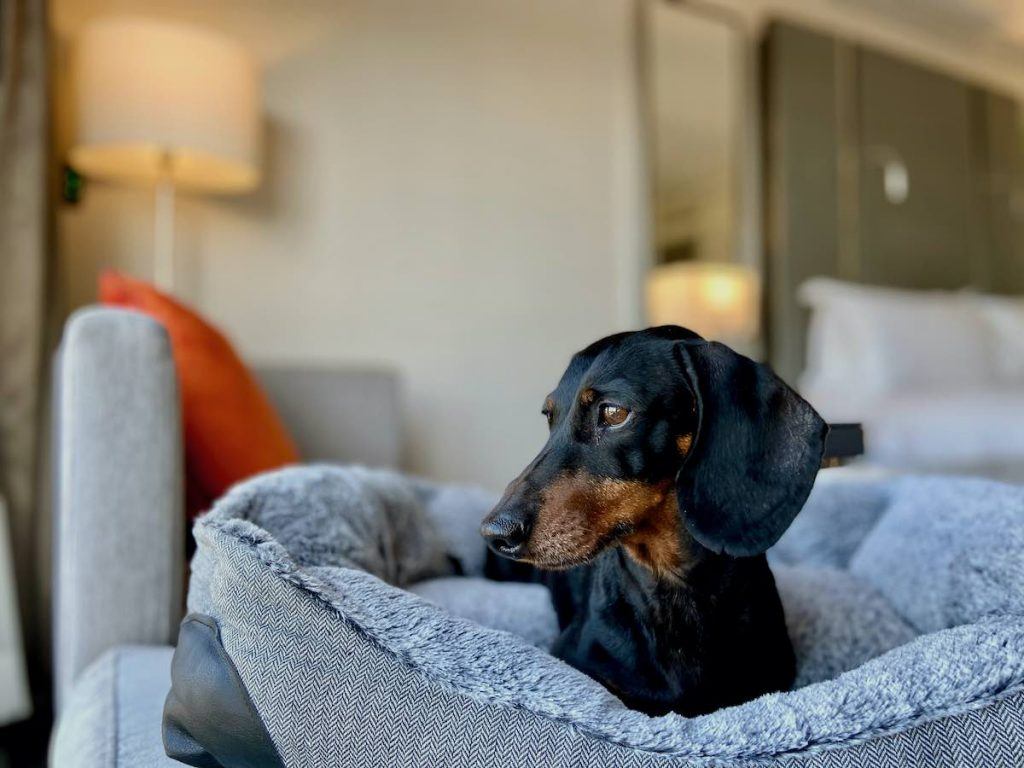 A Dog-Friendly Staycation in Sydney
Finally, you don't need to travel far from Sydney to have a great holiday with your pup. An increasing number of dog-friendly hotels in the city are throwing open their doors to four-legged guests. As well as a variety of luxury and boutique options in the CBD, there are also dog-friendly hotels in Double Bay, Bondi, Coogee and North Sydney.
Most hotels require direct bookings if you wish to stay with your dog, and may have restrictions on size, although this varies. An additional fee usually applies for pets, but in return your dog will likely be provided with bed and bowls, sometimes even treats, and their own room-service menu!
Shandos Cleaver is the founder of Travelnuity, a travel blog focused on dog-friendly travel around the world. She lives in Sydney, Australia along with her husband and Miniature Dachshund, Schnitzel. Together they've travelled extensively throughout Australia, the USA and Europe. She's passionate about providing inspiration and information to others wanting to travel with their dogs.
For more great holiday ideas, check out:
Our Picks for an Epic East Coast Road Trip with Your Dog
The Best Dog-Friendly Camping Spots This Summer
These Are the Best Dog Cities in the World
While you're here, subscribe to our newsletter, check out our magazine, and follow us on Instagram, Facebook, and Twitter.