Sign up to our weekly newsletter to go into the running to win an epic prize pack of dog (and human) goodies.
Dog perfume is one of those products that a few years ago would have felt like a punchline, but now seems like a totally normal and logical thing to buy your pet. Obviously scented dog products have been around for a long time, usually in the form of washes and conditioners, but dog perfume is different. This isn't about just getting rid of the "dog smell", they aim to elevate your pet's odour to something even you would aspire to.
Dog perfumes have been specially formulated to not irritate an animal's skin, eyes, or nose. So, it should go without saying, don't assume you can just dose your pet in whatever you have on your own dressing table. They also shouldn't replace regular bathing. As with people, think of it as a special addition to a grooming routine–not a replacement.

To understand the whole world of dog perfume more, we decided to test out one of the most popular brands: Harlow Harry
What is Harlow Harry Dog Perfume?
There are a lot of different dog perfumes and deodorants on the market, but not all are created equal. At the top of the pile has got to be Harlow Harry's human-inspired concoctions. These water-based formulas are free from alcohol, silicone, parabens, MCI/MI, formaldehydes, toxins, and other harmful ingredients. They're also pH balanced, vegan, and vet approved.
What They Say
Harlow Harry's two unisex scents are seriously elevated products. They go way beyond just masking that familiar dog musk. As they describe, the fragrances are "developed and produced in Sydney, Australia, alongside a fifth generation Perfumer, to the highest of standards." Just like a (good) human perfume they're complex, with top, heart, and base notes allowing for a scent that settles and changes with wear.
Hunter 33 (the green one) is smooth and woody with notes of amber, musk, sage, and lemon (among others). Bellevue 162 is fresh and floral with vanilla, violet, white flowers, and cardamom. Like the brand's shampoos, they don't only smell great they look good too. No need to hide them in a draw, you'd be happy to have these on display in your bathroom.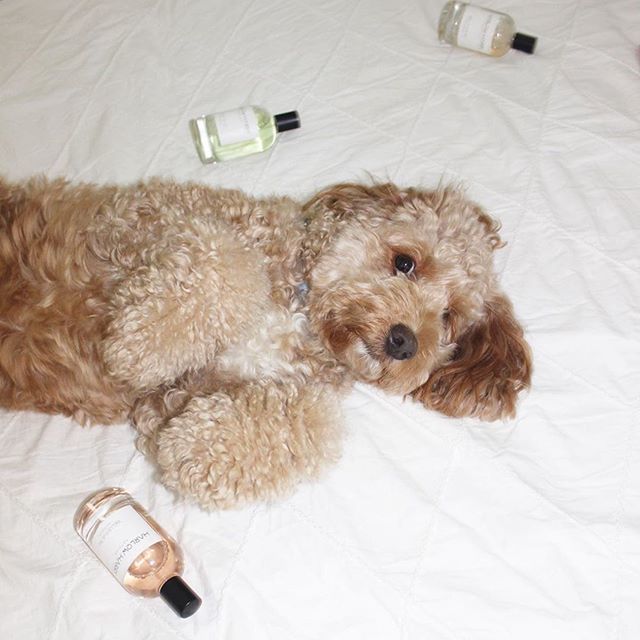 What We Say
Straight up, these perfumes smell amazing. I tried them on myself first and spent the rest of the day sniffing my wrists. They're officially the first product I'd happily share with my dog Stevie.
That said, Stevie was more apathetic. When I misted her with it she barely registered anything. Although, I think disinterest is kind of what you're going for with a product like this. She didn't appear to rejoice in it, but it also didn't bother her. I'd say she wasn't that aware anything was going on–except when I kept leaning down to sniff her. Safe to say, she appreciated the extra attention more than the perfume.
It is worth noting though that while my dog didn't mind it, a lot of pets are hyper sensitive to smell. New scents like this can upset and confuse them. If they're really not a fan, they may try roll around in dirt (or worse) to try get back to a more familiar smell–which kind of defeats the purpose.

Always make sure you allow them to smell it on your arm or a piece of paper first. Also, dogs communicate with each other through smell. There is a chance this could be disrupted by additional products. So don't try it for the first time before heading to the dog park. Consider it as more of an around the house product.
Final Verdict
While it was a cute change to have such a nice smelling creature to cuddle with, dog perfume is of course a luxury. At $59 a bottle Harlow Harry 's is more of a treat than a necessity. In terms of price and enjoyment, it would occupy a similar place in your life as a fancy candle. Very nice, but not life changing. Saying that, I'm 100% going to keep reaching for my own spritz from time to time (as well as spritzing Stevie of course). As far as dog luxuries go, this has got to be one of the most stylish.
Main photo by Ben Thomson.
For more product reviews, head over to:
The Babble Ball Might Be Smarter than My Dog
The iCalm Is the High Tech Speaker and Music Program Your Dog
Dog Gear for Design Snobs: Wild One
Don't forget to subscribe to our newsletter, and follow us on Instagram, Facebook, and Twitter.