Chances are, you don't give much thought to the differences between dogs toys. You probably have a basic understanding of your pet's personal tastes, but stop short of interogating the benefits of different designs. Hey, no judement, but there is value in thinking about the role toys are playing.
For a start, dog toys can be divided into three groups: active (encourages play and exercise), distraction (occupies and challenges their mind), and comfort (pretty self explanatory). Let's check out the differences between dog toys to see what your pooch should sink their teeth into.
Differences Between Active Dog Toys
Retrieving Toys
Retrieving toys such as balls and discs are designed to be thrown. They're not only a great way to give your dog a work out, but they also push them mentally and socially.
Added bonus: They tend to be cheap. Just make sure they're sturdy as they will face a lot of wear and tear. If they break apart they could be a choking risk. So skip the tennis ball and try something more robust.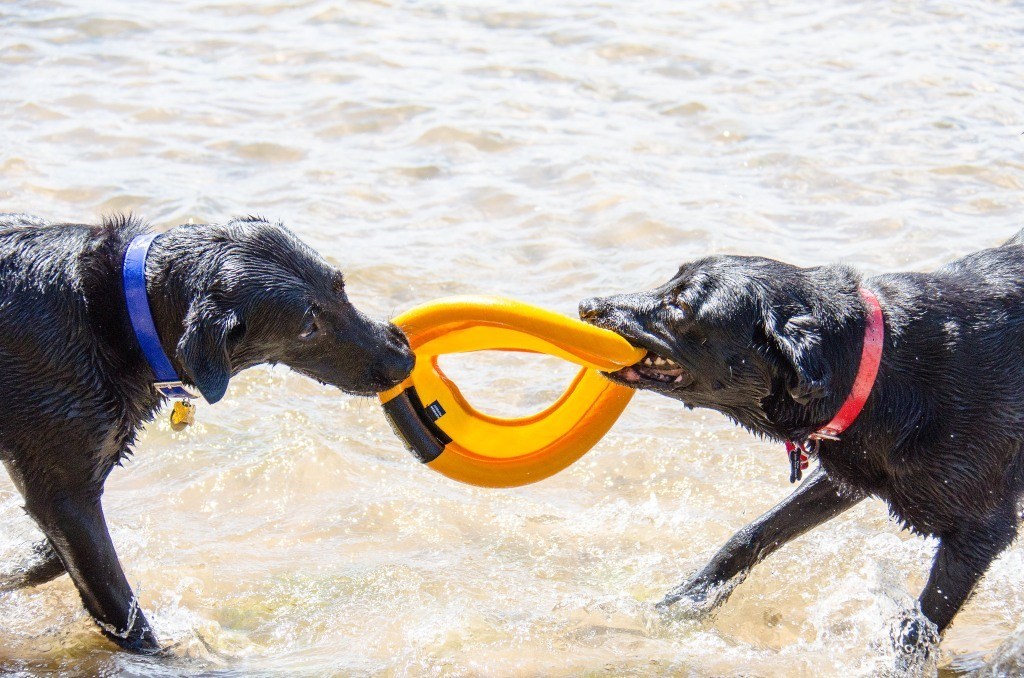 Tug Toys
There aren't too many rules when it comes to tug toys, they can be made of rope, thick fabric, or rubber. One advantage of tug toys over retrievers is that your pet can use them to play with other dogs, giving them exercise and a social experience. Just keep an eye on their teeth, young and older dogs could risk damage if things get too rough.
Differences Between Distraction Dog Toys
Food Dispensing Toys
These straddle the line between toy and tool by containing food that challenges your dog to engage with them. They're great for entertaining pets when you're not around, and can be used as a slow feeder for foodies who gobble their meals. 
Smart Toys
Smart toys–sometimes called interactive toys– move beyond the others to literally play with your dog. They're usually electronic or battery operated and their design can vary widely: some dispense food, others make sounds, shake, move, or light up.
They're an acquired taste. Some pets may play with them for hours while others find them off-putting. They also tend to be on the pricier side. But if your pet is a fan they could be the next best thing to playing with you all day.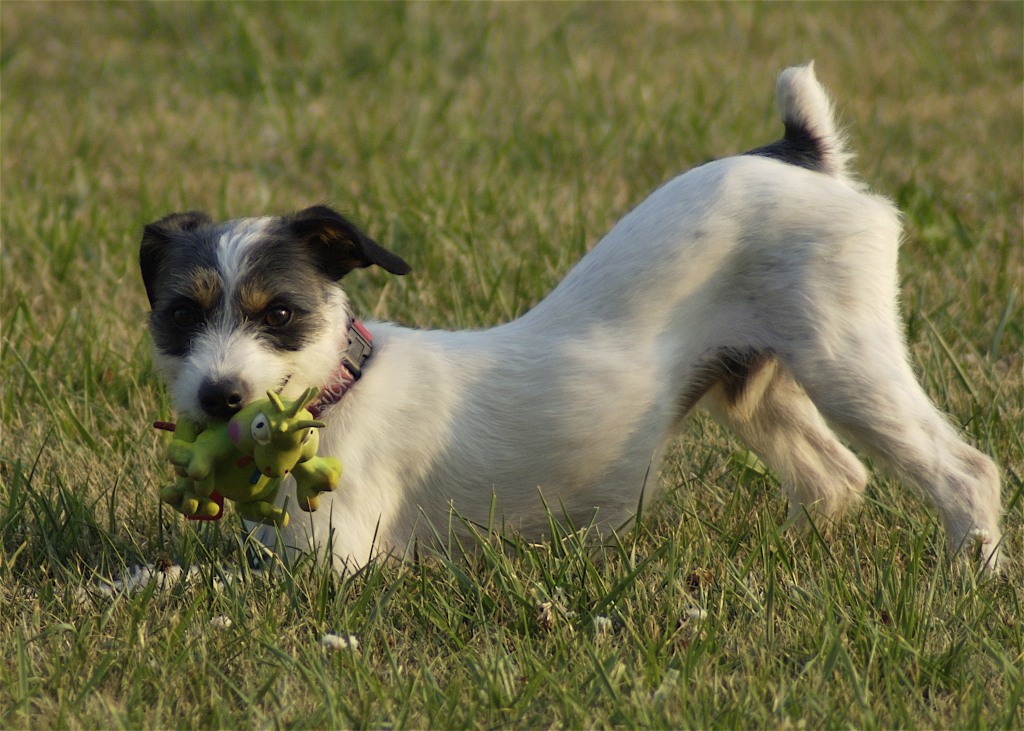 Squeakies
You know these–they're the noisy chews that dogs love but drive people crazy. Technically squeakies could be in any category depending on their design, but our recommendation is choose something durable that's made from rubber or pet-safe plastic. It will last longer.
While their noise can be grating to us, it provides stimulation for dogs and can keep them entertained when home alone. As with tug and retrieving toys they tend to take a battering, so be aware of any parts that may break off. Make sure you're around the first time they play with them to spot choking hazards–dogs have a tendency to rip the squeaker out.
Differences Between Comfort Dog Toys
Plush Toys
There is a lot of variation when it comes to plush (or soft) toys. Some make noises, have scents, or can be warmed in the microwave. One pet might cuddle them like babies while another tears them apart like prey. Both approaches are totally normal. In general plush toys are not ideal for aggressive chewers, as they're easily destroyed. Again, watch out for pieces that could become choking hazards.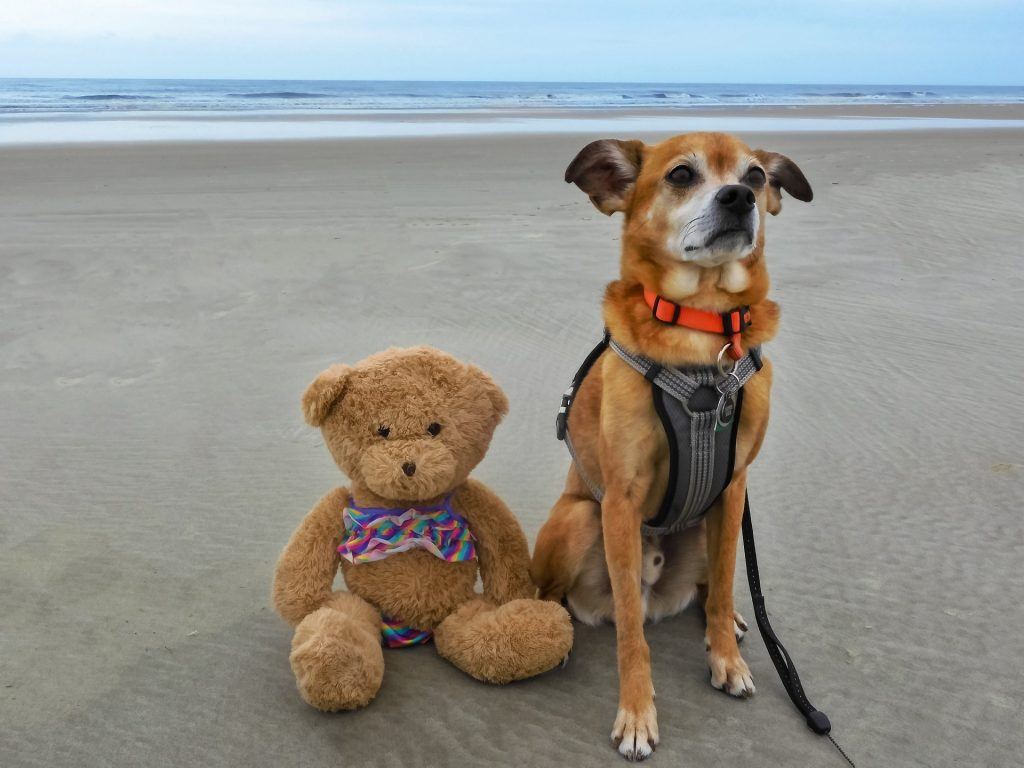 Chews Toys
Chew toys could also fit in any category depending on their design. They're durable, cheap(er), great to throw around, and can be calming. Chewing releases endorphins for dogs and can provide relief if they're teething. Some toys have dental benefits and may be a good addition to regular cleaning. Bonus: they can distract your dog from chewing the rest of your house.
Watch Outs
One more time for the people in the back: be careful of small, breakable parts that could be swallowed or choked on and always buy toys that were made for pets. Yes, sometimes that costs more. But they're designed to be durable, non-toxic, and safe (plus they're more fun).
Never give a dog a toy they could easily swallow. It should be larger than their mouth. And finally, stay away from toys with ties, ribbons, or anything else that could tangle them (or others) up.
For more dog toys check out:
Dog Gear for Design Snobs: Wild One
This Babble Ball Might be Smarter than My Dog
We Review WickedBone: The Internet's First "Smart Dog Toy"
While you're here, subscribe to our newsletter, check out our magazine, and follow us on Instagram, Facebook, and Twitter.