Across the last decade there has been a massive uptick of interest in raw dog food diets. The trend has been driven by Aussie vets Dr Ian Billinghurst and Dr Tom Lonsdale, who are the developers of the Biologically Appropriate Raw Food diet–unfortunately known as BARF. Fans of raw feeding claim that it's closer to the "natural diets" of our pet's ancestors and cuts out a lot of the additives included in commercial pet foods, so is therefore healthier. 
The problem is a raw dog food diet won't address all of a dog's nutritional needs, and will require some supplements. Working out how to do that can be tricky. Luckily Amanda Falconer of Bestie Kitchen is out to make that process as simple as possible. Her product promises to supplement a raw diet with all the nutrition that dogs need–but meat alone can't provide. We spoke to Amanda to learn what nutritional requirements are missing from raw diets and how her new business works.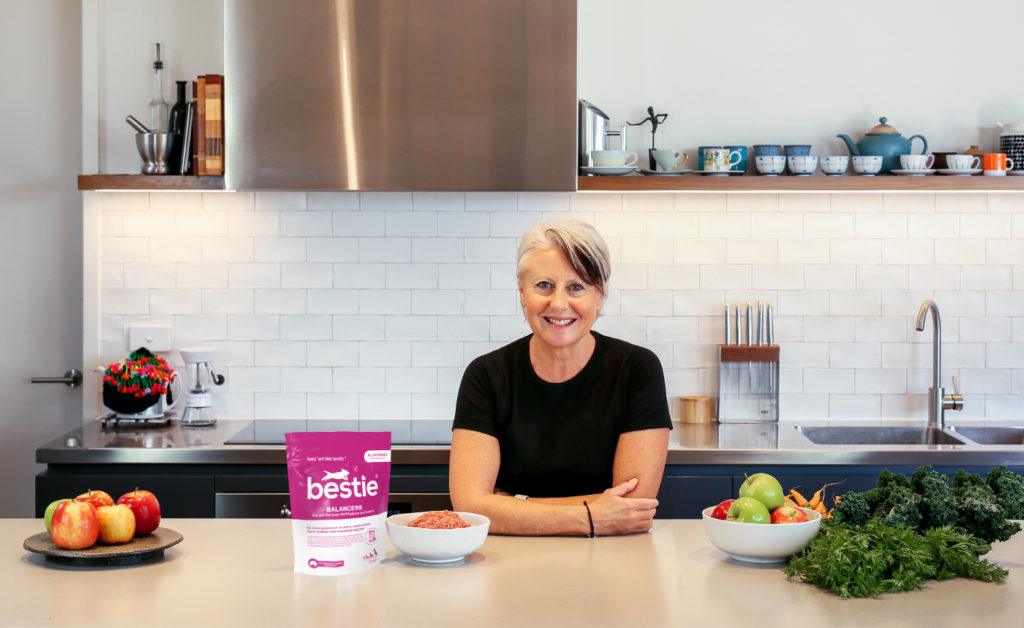 How did the idea for Bestie Kitchen come about?
As often happens, Bestie Kitchen was the solution to a problem we had, trying to feed our aging dogs fresh food. As our dog Mondoe inched closer to 22 (he died last year at that age), we moved further and further away from processed food. But even though we love our dogs like they're little people (or old men in our case!) they're not; and I really wanted to make sure that both Alfy and Mondoe got what they needed, as dogs.
What's your background and who else is involved with the business and product development?
My background has absolutely nothing to do with dogs or dog food. However I've had a long career in marketing–I began in product development of technical fabrics of all things–so I'm pretty good at wrapping my head around technical material. I've also written a non-fiction book published by Penguin, so I'm a good researcher.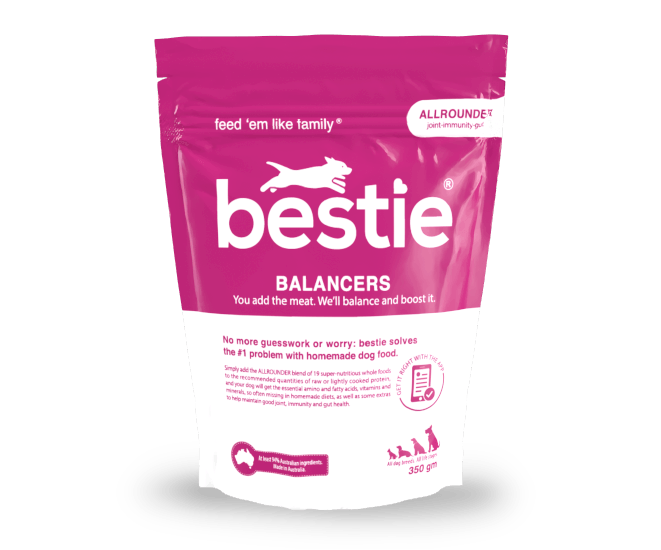 That said, while I did the market research and concept development for bestie, I had a very specific problem I wanted to design a solution for. So I do work with an animal nutritionist to develop our formulations. He's a career nutritionist, registered by the Nutrition Society of Australia, with a B.Sc (NSW) and M.Sc (Charles Sturt) majoring in Animal Science/nutrition.
What percentage of Australian dog owners cook homemade for choose raw dog food diets?
Research says that about half the meals that dogs eat are commercially prepared–something that's remained fairly stable over time. However, I think the "other half" also includes people who may feed their dogs some homemade meals from time to time.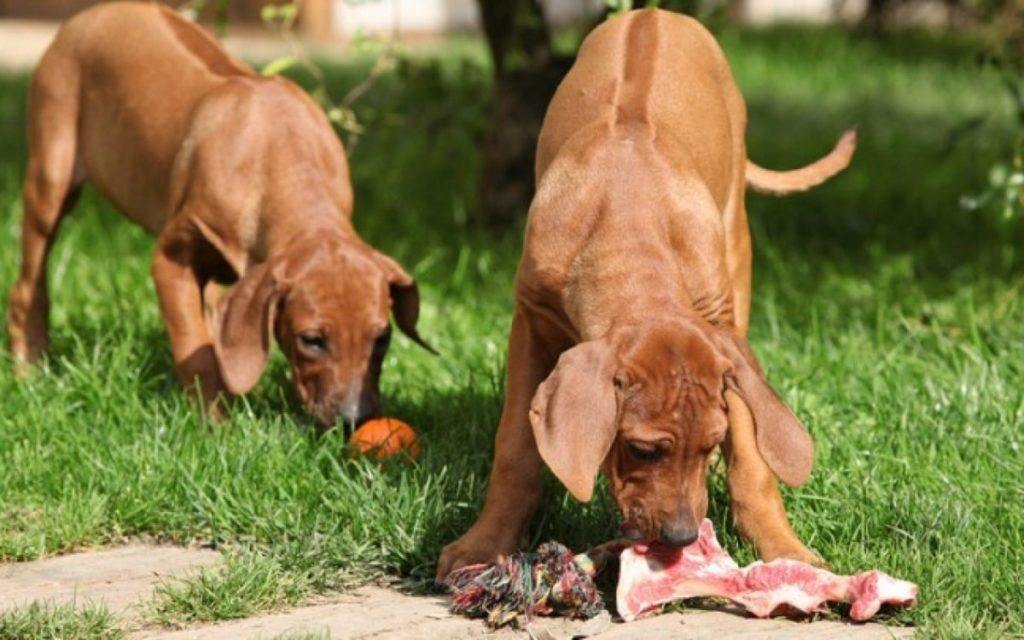 That said, if you look on the Facebook sites for homemade, fresh feeding, raw etc, and look at the frequency of people being added to groups, it's astonishing the number of new people added daily. So I think there is definitely a groundswell of people wanting to do this. And if not this exact solution, then they want to feed their dogs fresher, better food, that more closely reflects the ingredient quality and processing techniques they would be happy with for themselves.
After all, even though our dogs aren't little humans, we love them like family, so it stands to reason we want to feed them as well.
Raw dog food and homemade can be great, but what do these methods commonly lack that Bestie aims to provide?
In a nutshell, they're typically not balanced. And by that I mean that they don't give their dogs what they need nutritionally, to survive, let alone thrive.
I know it's easy to Google "homemade dog food recipes" and because they look appetizing to us, we think they're OK. But they're not. Nor is the staple chicken and rice by the way. Food for dogs should meet (or exceed) the nutritional profiles developed after years of trials and testing by AAFCO (the Association of American Food Control Officials), or the European standard FEDIAF. Some people think those standards don't even go far enough.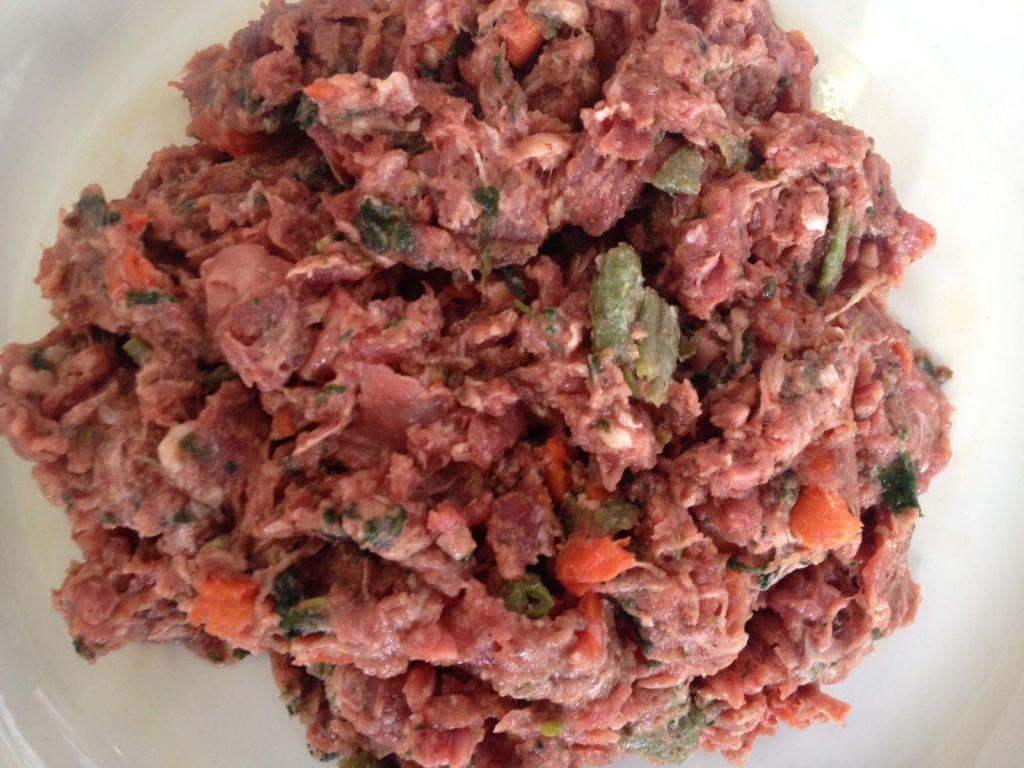 If a homemade diet doesn't even meet those standards, and nutritional analysis of 391 diets available from a variety of sources don't for example, then the meal might be homemade, but it's likely to be deficient.
So we balance the meal and we boost it, particularly in the area of good gut, immune system, and joint health. We do that using five power-house fruit and veg, three super herbs, five Australian superfoods, green lipped mussel, cod liver oil, pre and probiotics, bone broth, and MCHA bone meal from pasture-fed Australian cattle.
Added to recommended quantities of fresh protein, this mix gives the dog the essentials, as well as extra vitamins and minerals from all-natural, highly bio-available, dietary sources, to help maintain good joint, gut and immune system health.
Should pet parents apply it to every meal, or only some meals?
This really depends on the approach people are going to take to feeding. If you're buying a commercially prepared food that's already complete and balanced (like Scratch for example), then you wouldn't add it to that. However, if you want to make fresh, at home, you would add it to a fresh meat protein (eg beef mince). Nothing else would be needed for that meal.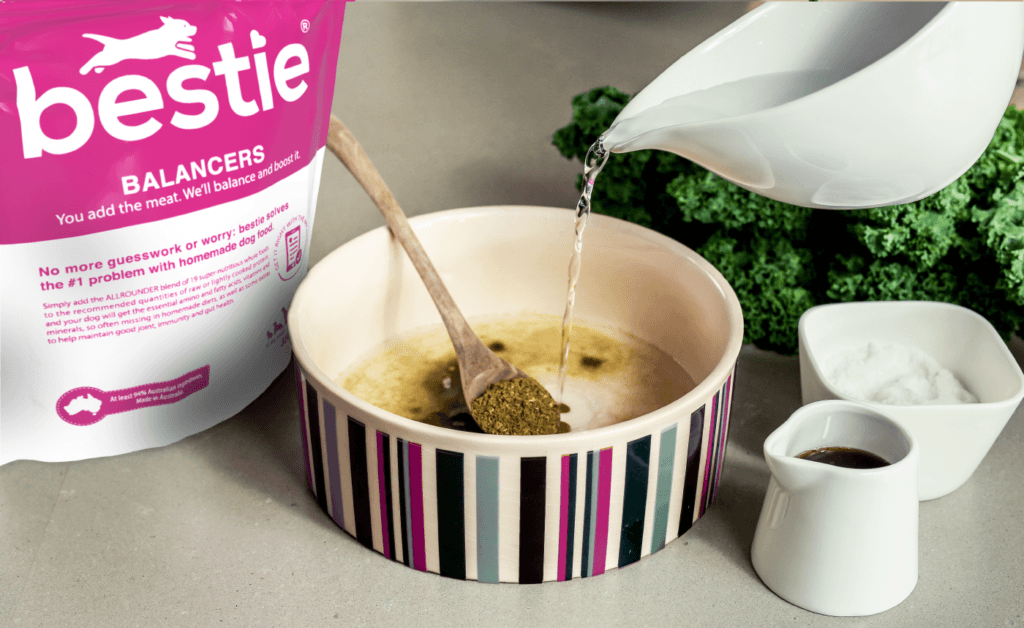 If you were to supplement food with Bestie to your recommended suggestions, what nutritional requirements would the rest of their food require?
They just need to provide meat. That's it. I was trying to design a solution to a specific problem, and it's threefold. One, make it complete and balanced. Two, make it super-simple and fast. And three, make it the quantity people need to feed clear. Hence the free app by the way.
After years of being frustrated at the vague answers vets would give me about how much to feed AND burgeoning obesity in the dog population, I decided to create a simple app, that provided meal plans, with rotated proteins for diversity, and the right quantities, tailored to each dog.
Tell us about the app. Is it essential for all customers, or just designed for the parent who doesn't know yet how to begin a homemade or raw diet to begin with.
It's not essential, but it's super-useful I think. It's also designed to specifically support the Bestie product. It won't tell you 100 grams of carrot and 20 grams of apple for example, it will tell you (based on your dog's profile) give them this much meat and this much Bestie. Also, that amount changes depending on the protein dog parents choose to feed.
For example the metabolizable energy lamb provides is different from what a beef meal provides so the app alters the quantity depending on the protein. We currently support lean and regular beef, chicken, turkey, roo, lamb, and fish.
Find out more about Bestie Kitchen, and explore other dog nutrition topics:
Is Homemade Dog Food Better than Store Bought Brands?
Insect-Based Dog Food: Is Eating Bugs the Next Pet Health Trend?
Understanding the Invisible Economics of Pet Food
While you're here, subscribe to our newsletter, check out our magazine, and follow us on Instagram, Facebook, and Twitter.