As you could probably guess, Dogue de Bordeaux originally hailed from France. Their name literally translates to "Dog from Bordeaux". Very original guys. But what they lack in creative titles, they more than make up for with brawn and heart. Big and strong, they're super affectionate with their family and love kids. If you've ever admired a lapdog but thought, "Mmm I wish this guy was 60 kgs+", this could be the dog for you.
History
Dogue de Bordeaux's lineage stretches way back to ancient Rome. It's believed they're descendants of war dogs. They kept up this tough exterior over the centuries, in the 1800s they hunted wild boar, fought bears, guarded livestock and homes.
But across the 19th century their popularity waned, until in 1982 it was estimated that there were only 600 left in the world. Luckily things started to turn around as their reputation softened and they became popular family dogs. Their star turn in the movie Turner & Hooch also helped things along.
Weight: At least 45kg, and up to 70kg.
Colour: Generally shades of tan or fawn, often with some white chest patches.
Life Expectancy: 5-8 years.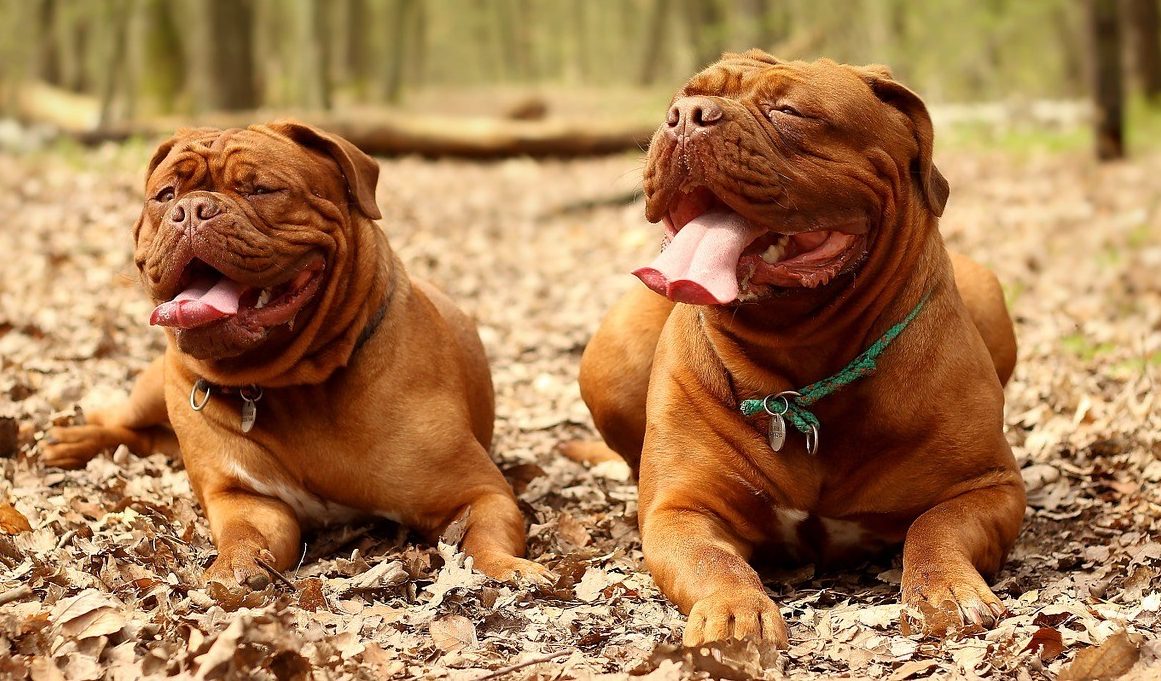 What You'll Love about Dogues
Affectionate: They're always keen to show their love, so expect them to wanting to touch, sit, lick, and lean on you.

Chill: Despite their hulking size, their calm, relaxed, and patient personalities make them gentle giants (assuming they're well socialised of course).

Active (but not too active): Consider them medium energy. They need a daily walk, but too much cardio might burn through their hard-earned muscles.

Low maintenance: They require little grooming and are low to medium shedders.
What You Might Find "Challenging"
Messy: Get the drool rags ready, and maybe pick up some earplugs to block out the snoring.

Needy: They consider being separated from their family as punishment and can then become destructive.

Surprisingly "delicate": They look tough, but you'll need to take care to keep exercise as a puppy controlled to avoid damage to bones and joints.

The downside of being so big: As they are large, powerful dogs, they need to be trained exceptionally well by a confident owner. While they rarely start fights, they are very capable of finishing them if things escalate. 

Expensive: As we'll explain next, health concerns mean they're one of the most expensive dog breeds to get covered by insurance.
Common Health Issues for Dogues
Breathing problems: Like many breeds, their short snouts can cause respiratory issues and can lead them to overheat when exercising on hot days.
Prone to skin Infection: All those rolls of facial skin and floppy ears can be an issue if they're not regularly and properly cleaned.
Hip & Elbow Dysplasia: Another common issue,

especially with big dogs.

They can run into trouble with their joints.
Instafamous Dogues
Think a Dogue de Bordeaux is right for you? Consider contacting the Dogue de Bordeaux rescue. Or, find out if you're ready to add a dog to your life.
To learn about other breeds, head over to our Breed Profiles.
Don't forget to follow us on Instagram, Facebook, and Twitter. And sign up for our newsletter to get our favourite content delivered to you weekly.