No matter how much you love your pet, you don't want to carry their fur on you all day. Or spend your life vacuuming up after them. Luckily, there are many dogs that don't shed. Although as a rule dogs that don't shed do need to be clipped. So the time you save vacuuming you will make up in grooming.
Small and Medium Dogs that Don't Shed
Bichon Frise
Not only do Bichon Frise not shed, they're also great for people with allergies. Be aware, that famous hair will still need to undergo frequent grooming, brushing, and the occasional bath to maintain the iconic fluff.
READ: A Bichon Frise Is a Sweet, Loving, Dog for Anyone
Shih Tzu
If you want a low shedding dog you can really style, a Shih Tzu could be for you. Their iconic mane may need a lot of washing and brushing to look its best, but at least it won't leave itself all over your home.
Brussels Griffon
In contrast, when it comes to upkeep Griffons are as wash and wear as Bichon Frise are high maintenance. These little guys would rather be rolling in the mud than worrying about a grooming appointment.
READ: Griffon Bruxellois Are Charming Social Climbers
Chinese Crested
If any haircut feels like too much, you could always go for a Chinese Crested. They're nearly hairless and the little fluff they do have sheds minimally. Although beware, the effort you would have spent on their coat needs to be spent on their skin. Without hair they're sensitive to sun, weather, and irritations and ironically can need more bathing.
READ: Chinese Crested Are so Much More than the "World's Ugliest Dog"
Terriers
The MVP of low shedding breeds have to be terriers. The whole family are known for their wiry, weather-resistant coats that shed very little. With the exception of Maltese (who do require a bit more care) their fur really only needs regular brushing, grooming, and the occasional hand-stripping.
Popular terrier breeds include:
Scottish Terrier, or Scottie
West Highland White Terrier
Yorkshire Terrier, or Yorkie
Maltese Terrier
Wire Fox Terrier
Dandie Dinmont Terrier
Cairn Terrier
Australian Terrier
Border Terrier
Bedlington Terrier
Sealyham Terrier
Silky Terrier
Welsh Terrier
Medium and Large Dogs that Don't Shed
Portuguese Water Dog
As the name suggests Portuguese Water Dogs' curly coats are tough and hardy, perfect for jumping in the ocean then shaking off as if nothing happened. Added bonus, their striking curls need minimal upkeep.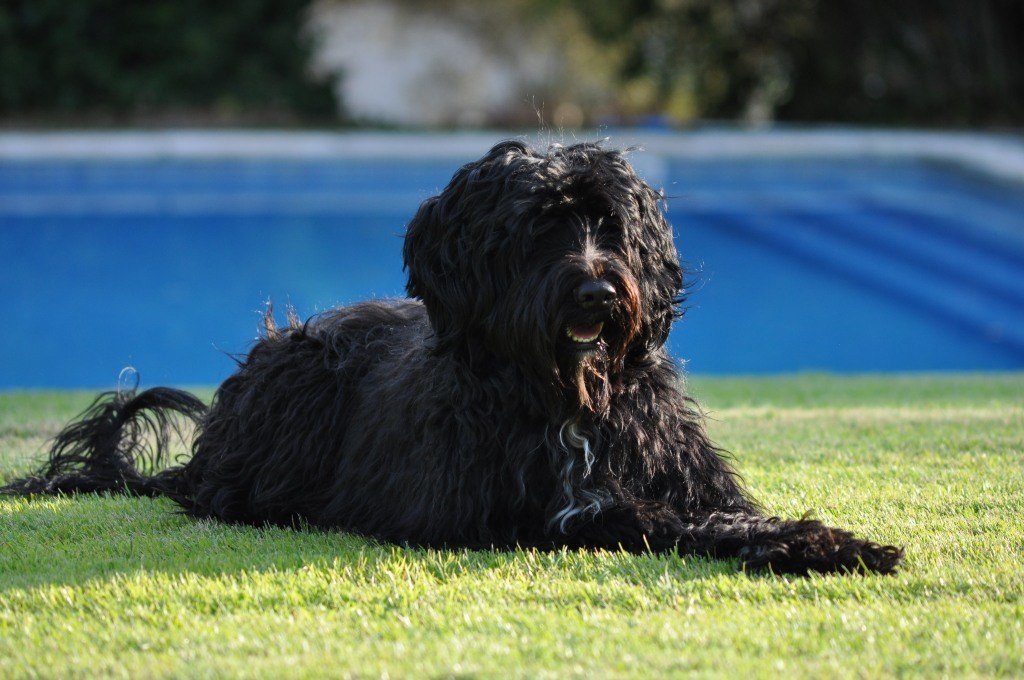 Poodle
Poodles are famous for their hairstyles, but ironically don't demand that much care. Being non-shedding and hypoallergenic they're perfect for people with sensitivities (more on that later). And if you're not entering them in a dog show you don't need to do much more than book in for a regular wash and trim at the groomer. Coming in toy, miniature, and standard sizes they also suit most homes and lifestyles.
Afghan Hound
Similar to a Shih Tzu and Bichon Frise, Afghans have all the practicalities of a low shedding breed without losing any of the glamour. Just make sure you clear plenty of time in your schedule for hair brushing!
A Note on Hypoallergenic Dogs
Just because a dog doesn't shed doesn't mean they're automatically hypoallergenic. People with dog allergies aren't always reacting to their fur, usually the issue is with a protein in their saliva and urine. Because of this, no dog is TOTALLY hypoallergenic. But there are many breeds who are far less likely to cause a reaction. Although, it's important to understand that people with extreme dog allergies still should talk to their doctor or specialist to see if a hypoallergenic breed would be suitable for them.
Hypoallergenic Dogs that Don't Shed:
Most terriers
Afghan Hound
Portuguese Water Dog
Chinese Crested
Schnauzer
Maltese Shih Tzu
Bichon Frise
Brussels Griffon
Labradoodle
Airedale
Poodle
For more on dog hair:
How Often Should You Wash Your Dog?
How to Control Dog Hair at Home