When preparing to adopt a dog, spare a moment (or, maybe a few days) to make sure your house is ready for the new family member. Most people think about puppy-proofing their home, but older rescue dogs have specific needs that should be anticipated ahead of time as well. That pot plant, those socks, that power cable might be boring to you, but they could be fascinating to them. So before you bring your new mate home, it's worth taking the time to look around your house from their perspective.
Start by deciding what rooms you'll allow your dog into. Any space where they'll be spending time needs to be vetted–including garages and yards. Once you've assigned your dog-friendly zones, review them with an eye out for the following items. Any dangerous objects should be removed or placed somewhere out of reach.
Cleaning Products and Medications
Be very conscious of your cleaning products, medications, household poisons (such as weed killer or rat bait), fertilisers, insecticides or paints. Think, would I want to eat that? If the answer is "no way" then store them in a locked cupboard or on a high shelf.
Electrical Cables
Dogs often use their mouths to explore new objects, so be wary of any electrical equipment that could give them a shock if chewed. If you can't remove them, make sure they're tied up or taped down.
Blinds or Drapery Cords
Pets can easily become tangled in cords or mistake them for a toy during play. This can lead to injuries or strangulation. So make sure they're tied back or secured away after use.
Plants
Many popular house and garden plants can be dangerous to dogs if ingested. Look up the plants you have around your home to see if they're toxic to pets. If so, make sure they're removed or out of reach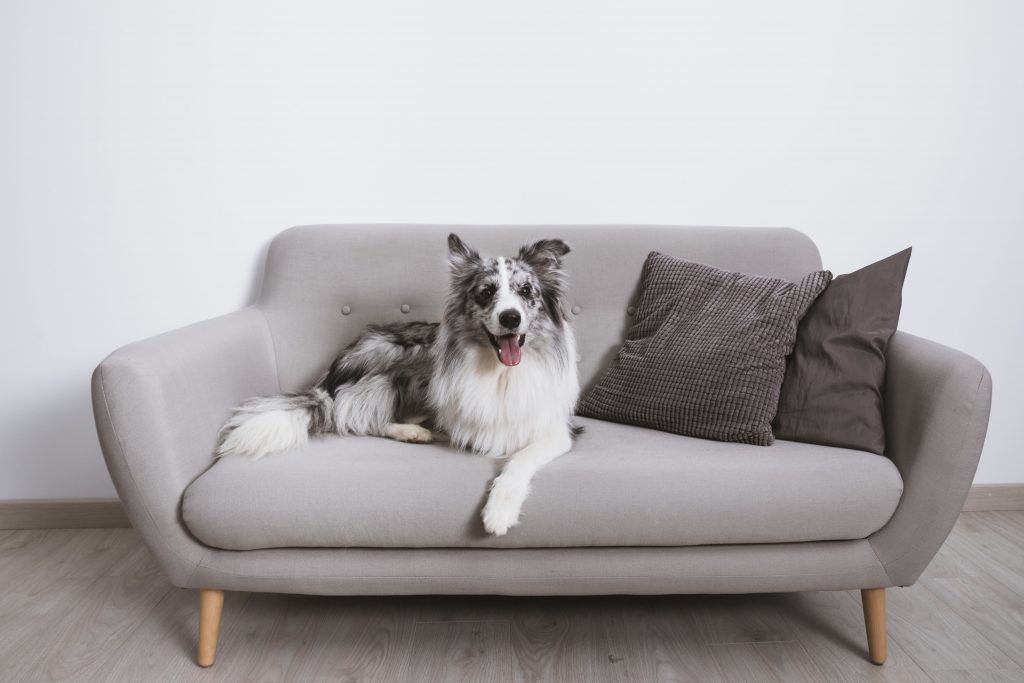 Items on the Floor
Pick up anything that may be small enough for them to swallow. This includes things like shoes, socks, rugs, pillows, homewares and objects with small parts they could gnaw off. Remember, you can't be too careful. Even soft objects can cause issues.
Rescue dogs experiencing anxiety may express this in destructive ways. Don't get angry if they damage something that could have been packed away.
Don't Forget the Garden
All the above watch-outs also apply to outside areas. Make sure any garden, courtyard, or balcony is fenced and secure with no holes where pets could escape. Pool fencing is also a must, along with a pool cover.
Again, an anxious or unsettled dog might take out their energy through digging. Pool or temporary fencing may be needed to keep them away from your prize roses.
Think about Their Sleeping Area
Pay extra attention to where your pet sleeps to make sure it's safe and secure. Small rooms, crates, and pens are all good options. But wherever you choose, ensure it's not in a thoroughfare or an area where there is a lot of movement. You don't want them to be constantly disturbed, tripped over, or stepped on.
Playpen, Crate & Baby gates
If you want to keep your dog away from dangerous areas for a short period of time or when you're not around (say if you're doing house work that involves chemicals), consider using a crate or playpen. To make areas of your home permanently pet-free, you can set up a baby gate. Not sure what kind of crate to get? We wrote some tips to help you choose the best dog crate.
Barriers like this may be handy when trying to introduce a rescue dog to other pets or family members. Allowing them to sniff their new pal through a barrier can help you manage a slow introduction and avoid them becoming overwhelmed.
Keep Things Closed
Doors and cupboards aren't the only things to keep in mind. Also ensure that washing machine and dryer doors, rubbish bins and toilet lids are all secured too. Trust us, if it's possible, they'll find a way to get in.
Alternatively, they may be interested in getting out. Make sure you keep your front and back doors closed, and secure any external gates. It's not uncommon for a new rescue dog to attempt an escape act.
Child Proof Latches
If you have low cupboards or doors that don't close securely, and you don't have time to get them fixed, child proof latches are great as a quick solution.
Once you have your house ready for your new pooch, you can use our rescue dog checklist to make sure you have everything you need for them!
For more help with your pup, check out Scratch's ultimate new dog guide.
Getting ready for life with a rescue dog? Get more great advice here.
Sophie is the Founder of So Help Me Dog and one half of the Healthy Dog Pod.
Photo by Sharon McCutcheon on Unsplash