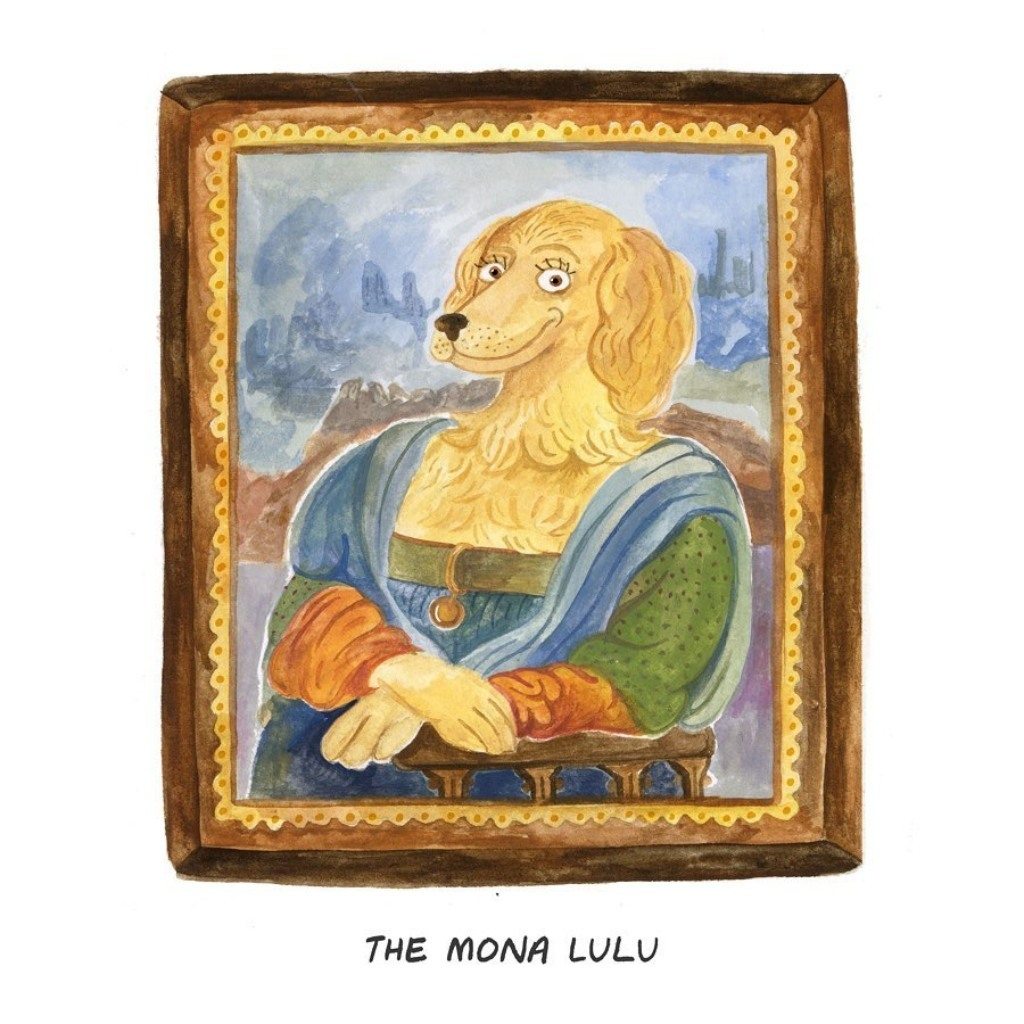 We recently discovered and fell in love with Ariella Elovic's work after coming across her deeply relatable illustrations of dogs and their owners in the New Yorker. A big puppy fan herself, she's long been fascinated by animals and recognised how they make unexpected, but excellent, artistic muses (and Instagram subjects). Alongside dogs, Ariella's work also explores body image and taboos, shame, and health. Like everyone, COVID-19 has thrown her creative and personal life into a spin this year and left her looking to new places for inspiration. Luckily, during tough times the local dogs in her neighbourhood never fail to pull through and give her something to smile about (and draw). We checked in with Ariella Elovic ahead of the release of her new memoir CHEEKY to hear about why dogs really are the ultimate artistic subjects.
So many artists have been inspired by dogs, what makes them so appealing to creatives?
Dogs are so fascinating to me because they take on such distinct personalities–and those personalities are so interesting to observe in relation to their owners. Owners and their dogs are these little teams that take care of each other and I love watching them interact. I recently worked on a piece for The New Yorker imagining the different activities dogs might like to do with their owners which was a lot of fun.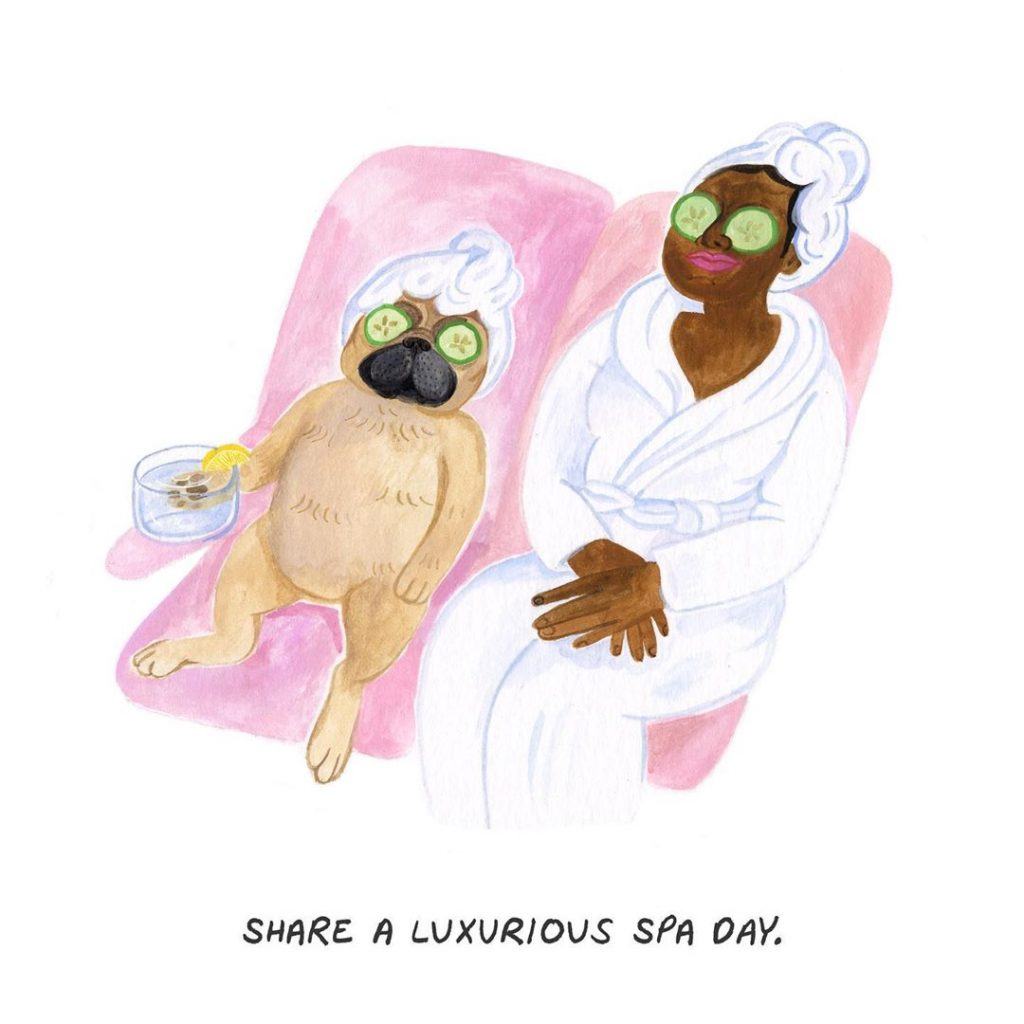 Talking about dogs and people, do you have a dog muse (or muses) you love to draw?
Thank you so much! My favorite muse is probably my mom's dog Lulu. She's a loving and sassy golden retriever with a truly human soul and lots of personality. In my everyday life, though, I love dog (and people) watching in my neighborhood. Since everyone is home these days, I've been seeing lots more dogs and puppies! I also of course follow countless dogs on instagram.
Understandably a lot of your recent work has been about the lockdowns and Covid. How has your practice been impacted by quarantine?
I've definitely been struggling to feel creative and productive during this time.There is just so much heartache and frustration and so much to process each day that my brain sometimes has had it–and painting brings me so much joy so that exhaustion sometimes makes me angry with myself ("just make something, you idiot!"). But I am learning to be kinder to myself and reconnect with what drawing used to be for me: a true escape, a way to express myself, a way to connect with others. I got swept up in algorithms and likes and it's been very freeing to release that pressure–to focus on making work that feels good to make rather than posting "enough" and growing followers. It's important to note that I am very fortunate to have a day job, so my art doesn't carry the pressure of paying rent.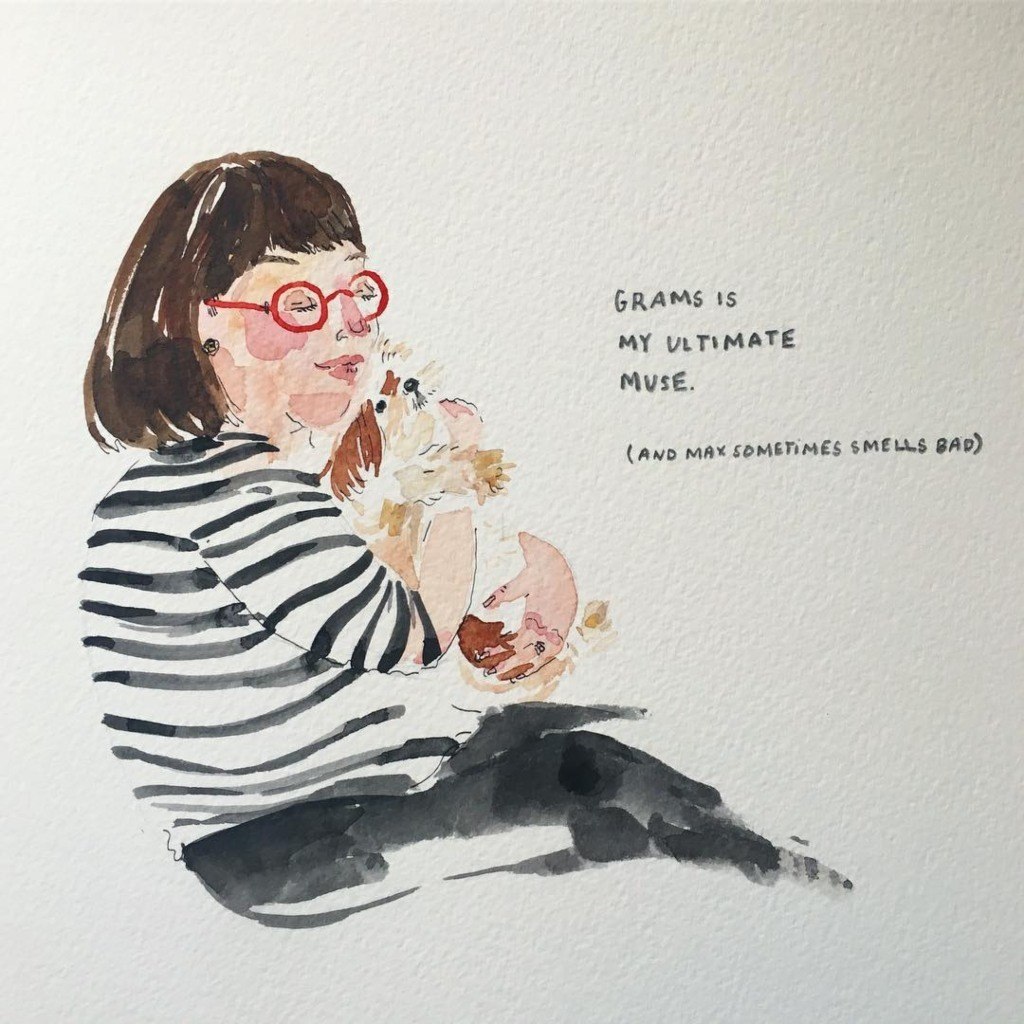 What do you do on those days when the ideas just aren't coming?
I let myself off the hook and get outside. Going for a walk and giving myself permission to stop working (even if I end up needing a full week away from my desk) is always valuable.
Other than dogs, what are your favourite subjects?
Lately I've been using my work as a way to either process feelings I'm having or release and have fun–one day I'll work on something speaking to an anxiety or anger I'm feeling and the next it'll be me dressed in a pastry I saw on The Great British Baking Show.
Both are honestly relatable feelings. In a perfect world, how would you like people to respond to your work?
I ultimately hope my work makes people smile and laugh, and specifically that my work on @thecheekyblog inspires folks to take joy in their bodies. We're in such a unique moment where we're all spending more time with our bodies–alone with our bodies–so I'd love if my work were a part of someone's journey towards appreciating their bodies more deeply.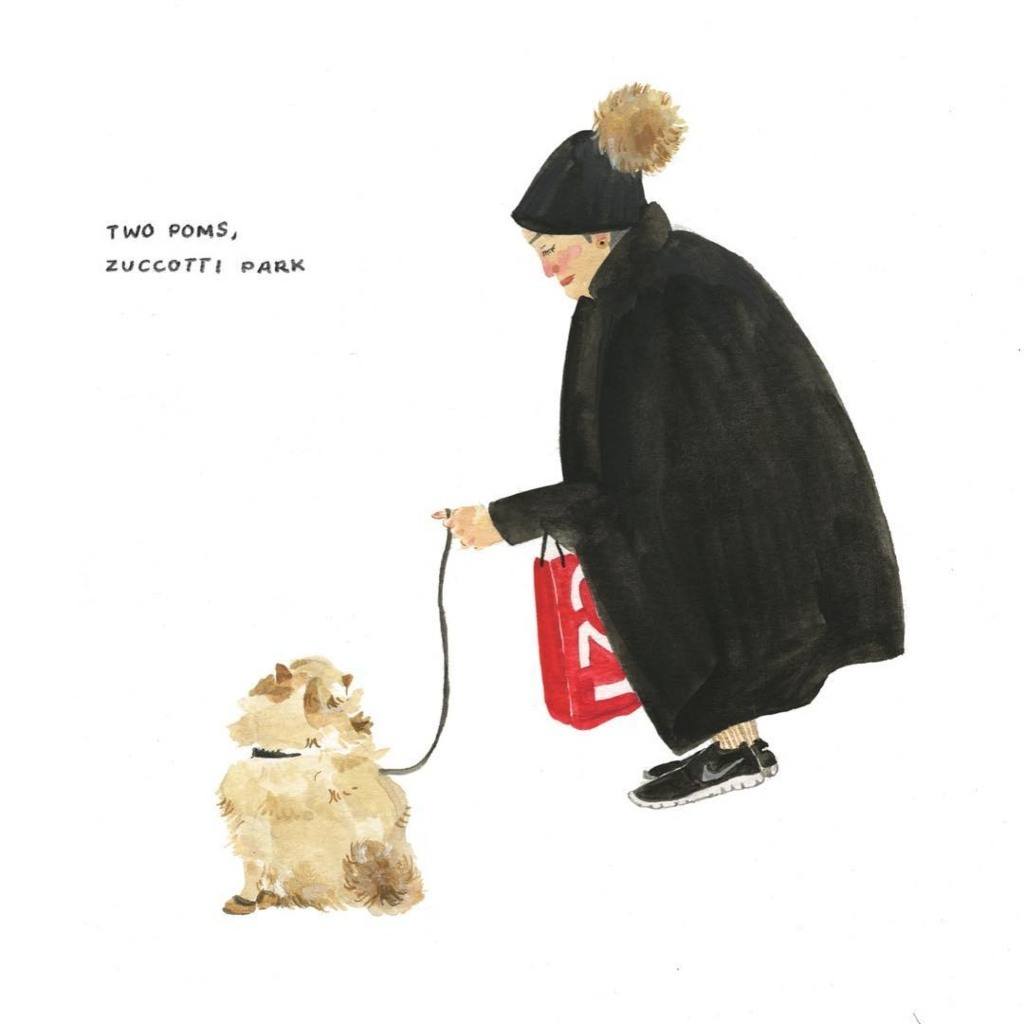 Tell us about your new book!
My new book CHEEKY: A-Head-to-Toe Memoir is a celebration of my body and explores how my relationship to my body (and each body part) has changed over time. Each chapter is dedicated to a section of my body (head, hair, boobs, tummy etc.) and tracks my progression from a confident, spunky girl to an insecure self-criticizing teen and young adult, and then finally through to my late twenties when I start learning to speak to myself more kindly and have more fun with all the messy/sticky/squishy/wonderful aspects of my human body. Along with me on that journey is my close group of female friends, chiming in to remind me that my arm hair is fabulous, my unibrow wonderfully unique, and my tummy rolls delightful–they wouldn't change a thing!
You can grab your own copy of Ariella Elovic's CHEEKY from 8 December, or preorder it now!
For more art involving dogs, check out:
Faye Moorhouse's Animal Art Celebrates Wonky Pets
Get your coffee table ready for 'Resident Dog' – Off The Leash
Stephen McMennamy's Dog Photo Combos Are the Stuff of Deams and Nightmares

While you're here, subscribe to our newsletter, check out our magazine, and follow us on Instagram, Facebook, and Twitter.