Love dogs? Sign up for our newsletter to get our favourite content delivered to you weekly.
Photographer Sophie Gamand always felt close to dogs. For her they represented a "safe place" within the wider world. But it was only after she began exploring the shared lives and histories between people and their pets that she realised they were also "a fantastic prism through which we can explore our humanity."
Inspired by this unique connection, she turned her attention to the experiences of dogs in shelters to see what happens when this relationship is inverted, and people leave animals behind. She was devastated by what she found. "It made me sick. So many hurt, abused, unwanted dogs, while so many more are being bred each year. It's madness."
Understanding that art can be a powerful platform to engage an audience with social issues, she decided to focus her work on rescue dogs. Moving between photojournalism and dog portraits, her images highlight harsh realities, but also celebrate the bravery and kindness of these animals.
Today she works with shelters to help find dogs new homes, but also uses her images to disrupt people's assumptions around certain breeds–specifically pit bulls. Despite admitting that she was initially apprehensive of them too, her experience making dog portraits of these animals quickly revealed how gentle, sweet, and resilient they can be. Admitting, "With hindsight, I think I connected with shelter dogs because I grew up feeling unwanted and misunderstood myself. I probably saw in shelter dogs a lot of myself."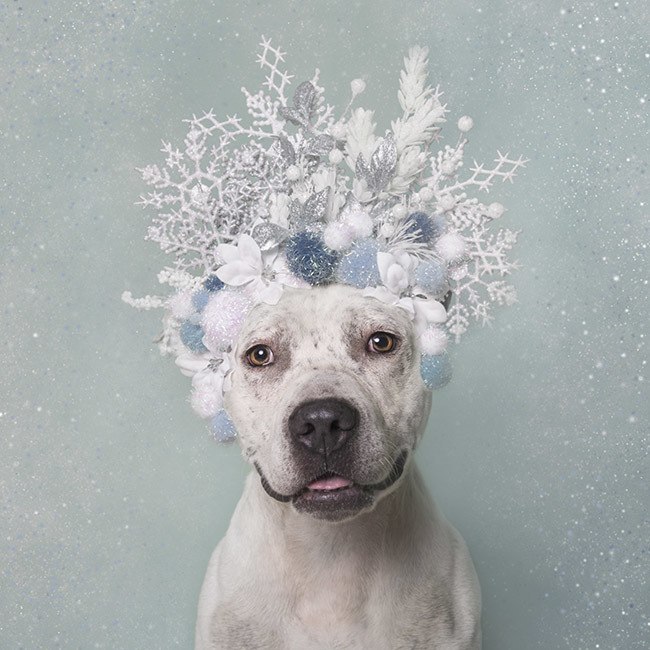 Why have you mostly focused on rescues in your dog portraits series?
I have created some series with owned dogs. But mostly, I have focused on homeless dogs. For the longest time, I was very strict about working with adoptable dogs as much as possible. Even when a commercial client would approach me, that was always an important part of the agreement. That's how I got a rescue pit bull to be a part of a campaign for Free People in Vogue Magazine!
To me, showcasing shelter dogs as able, beautiful, soulful, and strong was important. Years ago, shelter dogs still had so much stigma attached to them. The truth is, most of these dogs end up in shelters for no fault of their own. People move, divorce, fall ill, lose their jobs. There are so many reasons why they surrender their pets to shelters. With my work, I want to give shelter dogs their dignity back, and portray them as the unique, beautiful doggies they are.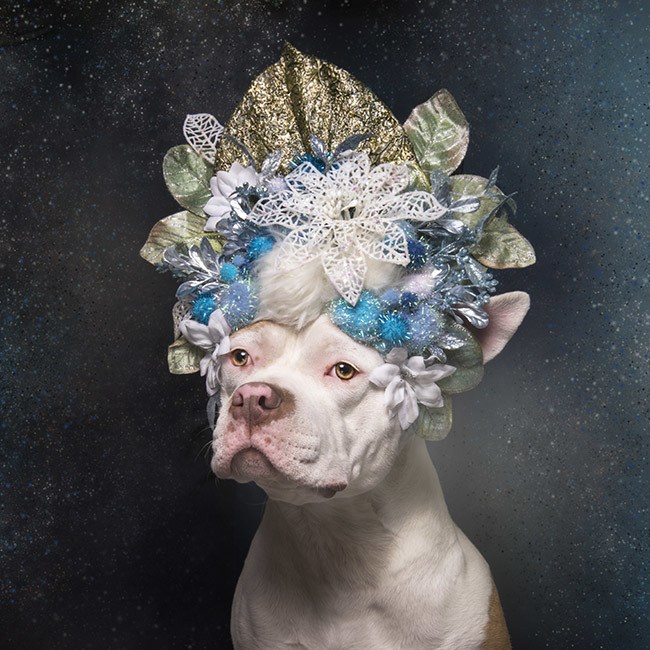 You work directly with shelters too right, helping your subjects get adopted?
For the past eight or nine years I have been travelling to shelters and working with rescue groups to photograph their dogs and help them get adopted. I remember starting from nothing, getting one like or share on Facebook and thinking, "How on earth is this going to help?" But slowly my work got noticed and shelters realised my photos were helping tremendously: adoption rates went up, they had more followers on social media, more donations, and difficult dogs found homes faster.
Then I created Pit Bull Flower Power, a series focused on shelter pit bulls. The images went viral and my work got a tonne of attention. Nowadays, I help many dogs get adopted, sometimes after 10 years in a shelter!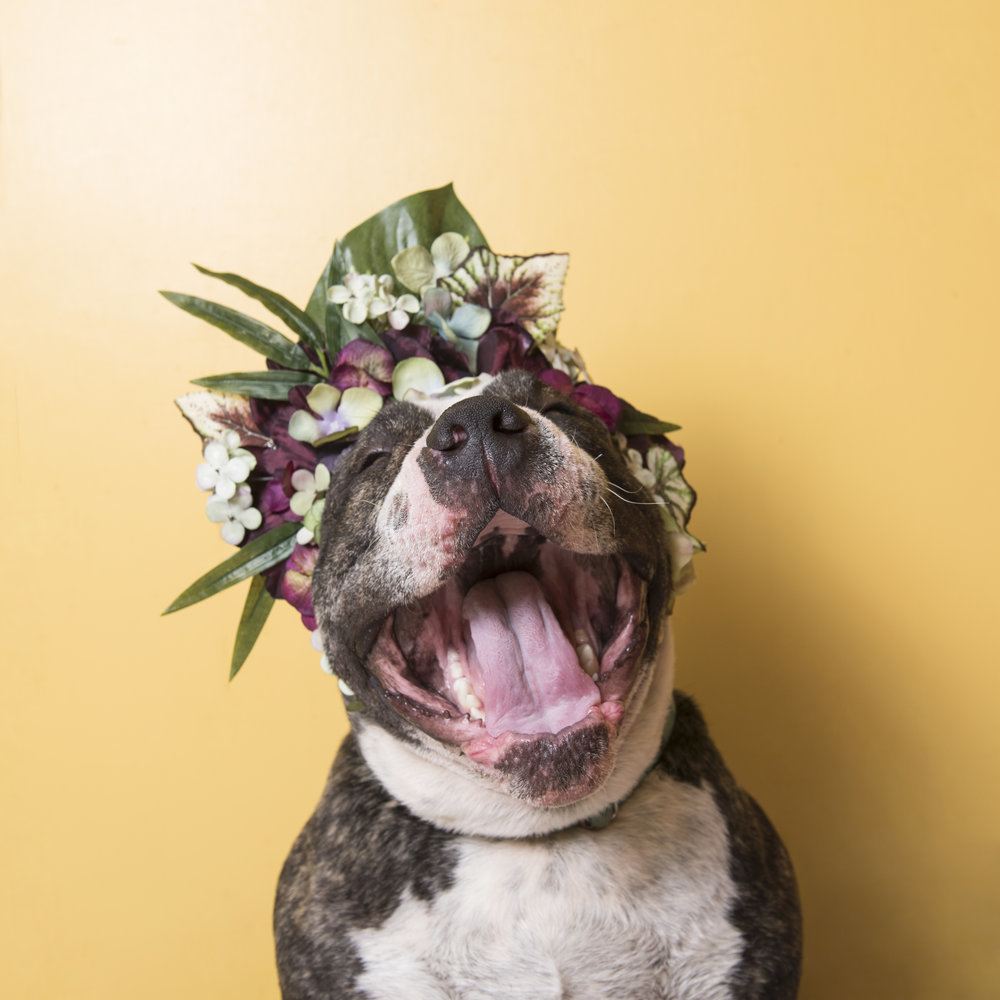 It feels like pit bulls occupy a special place in your heart.
When I started Pit Bull Flower Power in 2014 my goal was to see if a cute portrait could help a few pit bulls at a local shelter get adopted. Pit bulls are the most represented dogs in shelters, and the most euthanized. They suffer from prejudice and abuse all around the world. I was afraid of them, too. I grew up with the media narrative that they're vicious and unpredictable. At the shelter, each time a pit bull would come on my set, I would tense up. So I decided to create a project about them and get to know them better.
Little did I know that Flower Power would go viral for pretty much two years straight, and receive international acclaim. Overnight, I was propelled into the role of a pit bull advocate.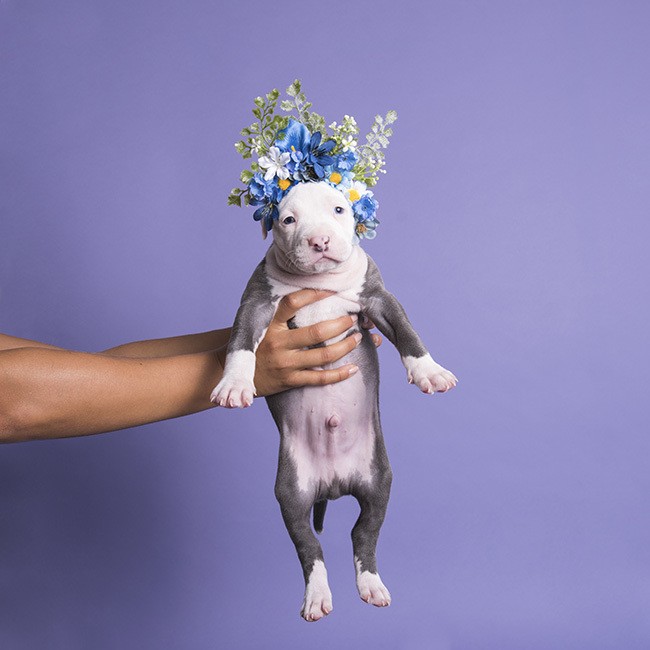 You have a campaign #PhotographySavesLives. In your experience, how does it do that?
One photo can tell a whole story. Nowadays, people don't have time to read. They browse all day, are bombarded with information and images. One good photo can stand out and grab your attention long enough to make you want to foster, adopt, donate, or sign a petition. My photos have helped save dogs from euthanasia or a lifetime in a cage, and shelters from bankruptcy. They've become a tool for education, too. There is so much potential in telling a story with images.
I have to ask, the subjects of your dog portraits always look so serene and relaxed, even when they're all dressed up. How do you manage that?
If a dog is stressed, I don't push them. The dogs who are wearing crowns or outfits, are dogs who are ok with it. The most important thing during a session, is to make the dog trust me in a very short amount of time. Treats fast-track the relationship for sure!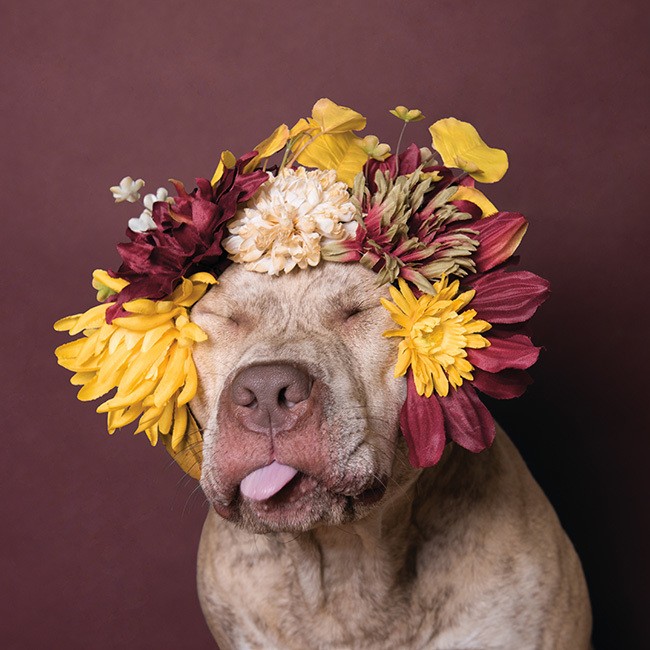 Check out more of Sophie's work at her website and on Instagram. Her books and calendars are available here. To help support her and her animal advocacy, head over to her Patreon page.
For more great dog art, check out:
Celebrating the Eternal Good Vibes of Underwater Dogs
Get your coffee table ready for 'Resident Dog'
Don't forget to follow us on Instagram, Facebook, and Twitter.