The options for treats to give your dogs are ever growing. Sometimes it feels like there are as many dog snacks on the market as human ones. We can see the appeal: dogs obviously love them, and they're a great way to train and reward your pet. But not all snacks are created equal. So let us help you sort the best from the rest!
Training/Reward Treats for Dogs
These are little morsels that when given together with praise, are a great way to help train your dog. They're also very delicious, so make for a nice (and small) special nibble.
Natural Versions: Liver treats, small pieces of jerky, or small chunks of chicken.
Commercial best sellers: Schmackos.
Watch outs: These kinds of treats can be loaded with sugar, salt, and preservatives—no wonder dogs love them. These additives are in there to improve the taste of mostly grain-based treats, keep products nice and chewy, or help them last on the shelf.
My pal Snoop's Favourites: "I luuuv kangaroo jerky pieces or pieces of my food. Never had a Schmackos. Not a fan of liver (I ate too much once)."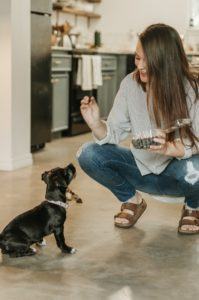 Occupier Dog Treats
While training treats are gone in an instant, occupier treats are meant to last a long time. They're often used to reduce boredom (and owner guilt) when dogs are left alone all day. Dogs will like different kinds depending on their size, tastes, and how veracious a chewer they are!
Natural Versions for Small Dogs & Light Chewers: Chicken necks, beef jerky straps, small bully sticks
Natural Versions for Medium Dogs & Medium Chewers: Pigs Ears, large bully sticks, lamb or pork bones
Natural Versions for Large Dogs & Heavy Chewer: Goat horns, deer antlers, beef bones.
Commercial best sellers: Rawhide. (I'm generally not a fan. Most are made in China and go through a chemical-heavy process that can cause digestion problems).
Watch outs: Be mindful when giving dogs bones. Never give them a cooked bone (they can splinter). Where you can, try get a bone from a butcher to avoid any nasty chemicals.
Snoop's Favourites: "I'm a self-confessed chew-a-holic. Although I'm only a beagle, a pig ear or large bully stick lasts me max 10 minutes. The only things I growl to protect are raw bones—the bigger, the better. They can keep me chewing for hours."

Functional Dog Treats
Functional dog treats are super popular because they're yum and offer some functional health benefit to your pup. They mostly fall into two categories:
Dental Health: Bones or treats that encourage chewing often fit here. But so do specifically designed treats like X or star-shaped "dental sticks". Dental health is one of the biggest health issues for dogs, so this is an easy way to spoil and help them.
Joint Health: Natural options include green lipped muscles and shark cartilage. Where as commercial offerings will generally also include glucosamine, chondroitin, omega-3, and increasingly turmeric.
Watch outs: People love throwing big, fancy words around when it comes to nutrition. So if a treat is claiming these ingredients make sure you read the pack to see how much is really included.
CBD Treats
This is a new, but growing area overseas (especially in the US). Basically it's treats that include cannabidiol oil: an extract of cannabis without the bit that makes you feel weird. Fans of CBD claim it has a range of benefits including reducing anxiety and inflammation, but it's still early days. You can read more about it here!
Final Advice
When looking for the best dog treats, remember to read the labels and consider the ingredients in the same way you would when selecting the food your dog eats. Not sure how to do that? Read this!
If you use treats regularly, then also consider the impact this has on overall calorie consumption for your pup. More than 50% of Australian dogs are overweight or obese. So, if you are treating your dog, and who can say no to those pleading puppy dog eyes, reduce the amount of food at meal times.